If content marketing is king, when done wisely, it creates a thriving kingdom. Content marketing is an exceptional way to deliver new leads from search engines and create brand awareness that increases engagement across all of your marketing channels: A consumer is more likely to open an email from your company if you've created familiarity. Beyond that, content marketing moves potential customers a step further in your funnel: After reading recommendations on a blog, 61% of online consumers in the U.S. decided to make a purchase. Furthermore, content marketing builds a trustworthy relationship with your audience, making them more likely to work with your brand than competitors.
Sounds easy enough, right? But content marketing isn't a one-time Band-Aid. Rather it is a brand investment that requires time and dedication. Recently HubSpot found that companies with 400-plus published blog posts see twice the amount of traffic as those with fewer than 400. Furthermore, they recommend that small blogs publish at least two posts per week, and large blogs at least four posts per week. At Eight Oh Two, we have clients publishing upwards of 20 pieces of content per week. And while volume alone is challenging to keep up with, it's truly only half the battle. Because your company's content must also provide more value than that of its competitors.
So before jumping into increasing your writing output, it is critical to understand your company's unique content landscape. Analyzing your competitors' content strategy is an essential part of evaluating threats and opportunities. While there are myriad tools on the market that can assist in your discovery, nothing will beat your own observations.
To set the stage, let's align on what constitutes a competitor. It's not necessarily your biggest offline competitor we want to watch — especially if they're doing poorly in content. We want to hunt for the company doing the best job in your vertical. When you search for the products you offer, what company always appears near the top? Who has tons of followers on social media? Who's getting consistent citations and media mentions? That's the competitor we want to analyze.
Let's look into how to determine competitors' best performing content, their unique factors of content differentiation, and their content distribution strategy, in order to inform the way you invest in your content marketing.
Identify What Works Well For Competitors' Content
A critical part of setting strategy is to properly map what's working best for your competitors. First we'll get a lay of the land regarding how much organic traffic they have, and what percentage of overall traffic organic contributes to their website. This gives us an idea of how quickly our traffic could be growing and also how much of an uphill battle we're potentially facing. Or makes it clear we can overcome their efforts by investing heavily, quickly.
Find Their Organic Website Traffic
Visit SimilarWeb and enter your competitor's website domain into the search bar, before selecting its match from the drop down. Scroll down to the Search section of the report to find an estimate of their traffic. By recording this information every quarter we can also get an idea of how quickly or slowly their organic traffic is growing. We can now move into analyzing the components that are driving the growth or decline.
Find Their Top Pages With Content
There is a lot of value in pinpointing your competitors' top performing content through a series of simple steps. To begin, we'll visit Ubersuggest, drop your competitors' website domain into the search bar, and select Search. Based on the results, we'll record their top performing pages and their top SEO keywords. Then, we'll Google anywhere from five to fifteen of the keywords to see which pages rank to add them to our list of top pages to further investigate. Now we have a list of top content that's working.
Determine What Top Content Has in Common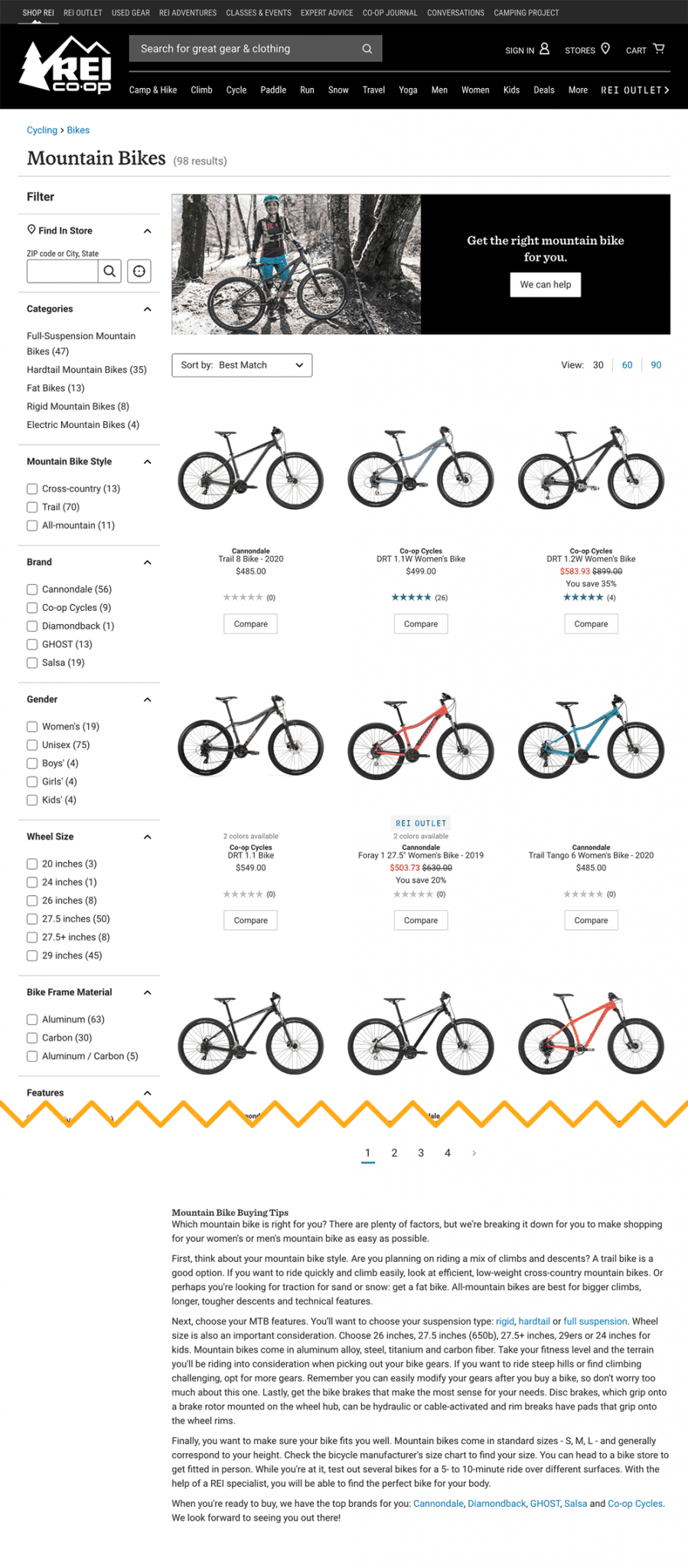 Our next step is to analyze why it's working. Begin by identifying the categories with top posts by looking at their url structure to see if they share a similar folder. Then, visit each of the top pages to get a feel for the attributes that they share: Are they helpful advice, are they tools, are they a certain type of product pages?
Look at the page structure to determine how much content they have on the page, where it's placed, and the ratio of visual to written to video content. For example, REI features one 3×10 product image grid, with a strong visual header banner and five short paragraphs of buying tips for one of its top pages about Mountain Bikes.
We'll also identify the content length they're targeting. Just copy and paste the top 10 content pages from their website into a Word Document, select all, and use Word Count to identify the average word count.
Finally, because titles are often what determine whether a consumer decides to click through and read the content, we'll examine what the titles of their top posts have in common in terms of sentiment, questions, or words such as numbers.
Pinpoint Their Keyword Strategy
We'll examine their top performing keyword similarities to determine whether they're targeting long-tail or short-tail keywords, and whether they're covering topics near the bottom of the funnel, the middle, or the top. Drop each keyword into Google Keyword Planner or SEMRush to see the associated search volume and competition level. You can also use Moz to supplement this research because it will show you quickly what a competitor ranks for, and how your site compares.
Determine Competitors' Unique Content Game Plan:
Next, we're going to examine what's unique about your competitors' content. This is the core of what makes their strategy a strategy.
Record Their Publishing Schedule
Visit the company's website and blog to see how many times a week they publish new content, and at what time of day on which days of the week. You could also subscribe to their email newsletter or RSS feed to await this information. These inputs help you better understand peak traffic times, as well as whether they're going for a quantity or quality strategy (or both).
Identify Their Authorship Approach
Find the author profiles on their website. Research each author on LinkedIn and Google to determine whether the company is using topical experts, freelance writers, or in-house staff. Based on what you find, take an educated guess about what the company might be paying per piece. For example, if many of their writers have Fiverr or Upwork profiles, the company is probably paying less per piece than they are if many of the writers are also published on Forbes.
Analyze Their Resource Investment
Look at the company's website as well as their LinkedIn company page to determine how many people work at the company today on their content. Check to see whether there are any content-related jobs posted (writers, editors, copywriters, content marketers, etc.), as that could indicate they're increasing their investment in content.
Assess Their Imagery Strategy
Because 10.1% of all Google traffic is for images.google.com, images are an essential part of content marketing that sometimes gets overlooked. So examine your competitors' website and blog to determine their image strategy. Are they using stock photos, making graphic designs, designing custom illustrations, or creating videos?
Investigate Competitors' Distribution Strategy
Content has to be seen to be successful. So it's imperative we understand how competitors are driving views of their blog articles and web pages. Let's look at the best ways to determine their distribution strategy.
Track Guest Posting
A simple way to determine whether a competitor is investing in guest posting on other sites is to use Ahrefs to record the number of links back to their website each quarter. Watch for how much the number of links is growing. Dig further using the free backlink checker tool to see specifically which websites are providing them coverage. We can also set up Google Alerts for variations of their company name to see what they're trying to push via PR or to easily find the guest posts as they're published.
Analyze Social Media Success
The next step in our analysis is to identify the social media channels where competitors have a strong presence. View a company's social media handles by checking Facebook, Pinterest, Twitter, LinkedIn, and SnapChat. Skim to find posts where they see the most engagement, and the nature of the content.
We can also examine their Facebook ads to see if they're advertising their content to kickstart their flywheel. Head to their Facebook page, scroll down to Page Transparency and click See More. Scroll down and select Go to Ad Library under Ads From This Page.
Seek Out Repurposed Content
Since we already know their top performing articles, we need to check their Youtube and website to see whether they've turned those pieces into ebooks, webinars, videos, or podcasts. By determining in what format they're repurposing content we can get a feel for formats and channels that potentially work best.
Examine Their Technical SEO
Finally, we want to get a feel for how advanced their technical SEO capabilities are. View the source code of a handful of their recent blog posts that either have multiple steps in them or are "how-to's" and search for "Schema" to see if they're using Schema markup that helps them grab the snippet or if they're using FAQ or how-to markup.
Then, run a ScreamingFrog audit on their website to determine whether their pages, titles or URLs are too long (60+ characters), and whether they're using H1s, H2s, and H3s UX formatting properly, as well as whether they have metas or duplicate content, and any other Schema markup. You can also see if they're using image alt tags. The fewer the "mistakes," the more likely they're investing in technical SEO.
Create A Content Strategy That Highlights Your Core Brand Strengths
Now we've properly analyzed the competitive landscape you can use to inform your own content strategy in the year ahead. Bear in mind that just because competitors are doing something doesn't necessarily mean it's the right thing to do. It's important to focus on integrity and stick with your core brand strengths. But knowing what your competitor is doing and how they're investing could provide valuable intel on how best to reach your target audience.
Contact us today if you have any questions about our holistic approach to search marketing or if you're interested in having any/all of your programs audited for opportunities.