Your landing page is the first thing a potential lead sees after clicking on your paid search ad. Creating a landing page that makes a good first impression isn't just a best practice, it's the key to driving more conversions and more return customers. Enter the dedicated landing page. Today we'll cover when to use a dedicated landing page, and explain three best practices to follow in your own dedicated landing pages, with examples.
What is a dedicated landing page?
A dedicated landing page is specifically tailored for your target audience and your Paid Search campaigns, to help you get the most out of every click. These landing pages provide reporting opportunities for specific audiences or segments. A dedicated landing page will also give you opportunities to track actions in a way your homepage will not.
When To Use a Dedicated Landing Page
Determining when to use a dedicated landing page depends on the goals of your website or client. Are you trying to boost and track sales of a certain product, or are you trying to get prospects to fill out a lead form? Then creating a landing page specifically for that purpose will help you appeal to your audience and track the conversions you would like them to complete. Using a dedicated landing page for PPC campaigns is more often than not a best practice for generating leads or encouraging specific purchases. The landing page experience you want to give a potential lead or customer who clicks onto your site from your PPC ads is different from the experience you give them on your homepage.
Next, let's take a look at three examples of dedicated landing pages and why they are effective.
1 | User-Friendly With a Clear Call to Action
This dedicated landing page is for a family-oriented martial arts gym based in Houston, Texas. Their landing page is streamlined and easy to navigate. Additionally, the call to action follows a potential lead down the page as they navigate to complete the form. This gives the user a clear sense of value: They must complete the lead form if they want to claim their free session.
2 | Offering Additional Information
The second example is from a telecommunications cooperative based in South Carolina. This landing page demonstrates value up front, right above the Order button. But if the user isn't convinced, they can find more information that demonstrates additional value as they navigate down the page. Giving your potential customers the right information in the right way will increase the likelihood of capturing a lead.
3 | Directing the User to a Specific Location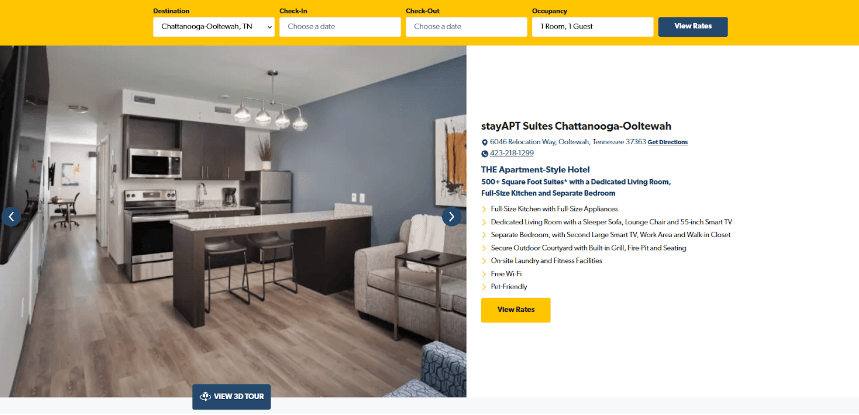 Our final example is an apartment-style hotel chain with locations all over the country. This landing page deploys strategies similar to the other landing page examples, but being a national chain has made it necessary for this business to build landing pages tailored to each specific location with its own photos and contact number. If you're serving customers in multiple locations, or you offer different services, segmenting your landing pages and search campaigns to accommodate them is a smart strategy.
Using a dedicated landing page will help bring focus to your Paid Search campaigns and allow you to measure success for your unique goals. When you create a dedicated landing page, always present information clearly, deploy a call to action that follows the user down the page, offer additional information to a user when they need it, and segment your landing pages by location or goal as necessary.
Contact the experts at Eight Oh Two Marketing if you're ready to talk about dedicated landing pages and other PPC best practices.